30 best Youtube seo tools that can help reach your videos to maximum audience, do you want to know about them?
And did you know that YouTube is the second-most used search engine, right behind Google? Well, i'll tell you all about that.
Search engine optimization is now more important than ever because of how the worldwide crisis has profoundly changed the online economy.
It is now totally up to business owners to maximize this digital revolution in order to increase income and scale their enterprises. The time is now to expand your SEO initiatives and strengthen your digital marketing strategies.
Nowadays, a lot of companies use YouTube to market their brands. On YouTube, though, getting to the top of the search results is a little trickier than it is on Google. If you want to rule this search engine, you must produce some outstanding material to optimize YouTube search ranking. You must succeed in the challenging challenge of keeping the audience's interest throughout the entire video.
New software solutions are being launched to help you obtain your website among the top search engine results because SEO is now a crucial component of marketing. However, for someone who is just going out into the internet world, it can be extremely scary.
To make your process simpler, I have listed down 30 best YouTube SEO tools for you that are totally free. Let's look at what these youtube SEO tools can do for you and your business first.
Why Youtube SEO tools are important?
Insightful information about your website is provided by SEO tools, allowing you to make the required adjustments to raise your rating.
They also aid in efficiency and assessment processes. Additionally, these tools provide recommendations for how to improve the search engine optimization of your website.
You can avoid the time-consuming tasks of keyword research and data analysis by using SEO tools.
The top SEO tools give you reports on how you stack up against your rivals and where the most amazing prospects are.
If you manage multiple websites, SEO tools can assist you in quickly assessing each site's performance.
Top 30 Best YouTube SEO Tools to Improve Your Rankings and Reach
Let's discuss 30 best youtube SEO tools in detail.
1)   Tube Buddy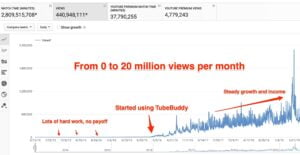 Try Tube Buddy if you're looking for the greatest SEO tools for YouTube channels that are packed with useful features. It enables you to perform in-depth qualitative research and gives you access to various types of data. You can use it to do market research and evaluate the statistics for your channel. Additionally, you can update the metadata associated with your videos, such as the thumbnails, labels, captions, annotations, and descriptions.
You can download it for free as a YouTube extension for simple access.
https://www.softlay.com/webapps/ tubebuddy
2)   VidIQ
Do you need a one-stop shop to solve all of your YouTube-related issues? Think about VidIQ.
Another great toolset for YouTube SEO that offers a variety of functions is VidIQ. It can be used to conduct in-depth research on your subject and your competitors. You can also use this software to optimize the YouTube search ranking of your videos for higher search engine placement. Additionally, vidIQ offers subscribers real-time information on the development of their channels.
You can get started with vidIQ by signing up for a free account.
3)   SE Ranking
An all-in-one SEO tool, according to SE Ranking. It enables you to keep tabs on your rankings across the top five search engines and follow your top five rivals. Even better, you can specify a target URL for each search, in which case all non-target URLs will be highlighted in red. You can use it to boost traffic and SEO for your website.
You can test SE Ranking out for 14 days without having to commit to a premium plan thanks to its free trial period.
For a free 14 days trial, click on the link given below.
https://seranking.com/sign-up.html
4)   Serpstat
Using the keyword research tool SerpStat, you can see what your opponents are doing. When you enter a single goal phrase, SerpStat will offer numerous suggestions for keywords you can rank for as well as discover search terms that likely clients use. You may use it to raise your ranks and find more high-quality leads, both of which are essential for boosting ROI.
Serpstat offers a free plan that gives you access to all of its features.
https://serpstat.com/signup/get-free-trial/
5)   Ubersuggest
Ubersuggest is an effective tool that aids in competitor and keyword research. You can use it to enhance your SEO and locate the ideal keywords for your website. The capability to add keywords and routinely monitor their ranking is also included. Data on a variety of variables, including average position, rankings variation, and visibility trends, are included.
Ubersuggest is free to use.
https://neilpatel.com/ubersuggest/
6)   Screaming Frog
A desktop application called the Screaming Frog SEO Spider can be used to analyze websites and gather information about them. It's a useful tool for technical SEO audits because it enables you to gather a wide range of data, such as header response codes, title tags, and meta descriptions. For additional examination, all of this data can be exported into a spreadsheet.
The ability to find duplicate content, flaws that need to be fixed, poor redirects, and improvement opportunities for link building is this tool's strongest feature.
A free version is available for download.
https://www.screamingfrog.co.uk/seo-spider/
7)   Rank Tracker
Are you not aware of YouTube trends? Rank Tracker is here to assist you, though. You can use it to obtain keywords from the most recent YouTube suggestions. Additionally, it provides information about important SEO parameters like estimated traffic, search volume, competitor research, and many more.
A free trial of the software is available.
8) Ahrefs
The YouTube SEO tool with the largest keyword database is Ahrefs. Both local and international search volumes are disclosed when you run a keyword search. Additionally, clickstreams and click percentages are displayed. It can also serve as a resource for topic ideas.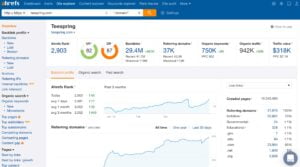 A 7-day trial is available.
9) YTRank
With the help of the effective YouTube keyword tool YTRank, you may raise the SEO of your channel. You can monitor your progress, discover new keywords, and receive suggestions for improving your videos with YTRank.
A free trial is available.
https://ytrank.net/get-started
10) Keyword Tool
A quick and easy tool for finding YouTube keywords is called Keyword Tool. It can be used to generate ideas for your content strategy and discover new keywords.
A free version is available.
https://keywordtool.io/youtube
11) YouTube Analytics
Your channel dashboard gives you access to YouTube's native feature, which gives you a channel overview. It identifies your target audience and the other kind of videos they like to watch. The timeline of viewership and audience interaction is also visible. It is designed for those who already have a number of videos and wish to evaluate their effectiveness.
YouTube Analytics is a free tool.
https://www.youtube.com/analytics?hl=en
12) Keyword Planner
Google created a tool called Keyword Planner that enables you to look up keywords for your YouTube videos. It can be used to find high-traffic keywords that you might target and to generate ideas for fresh content.
Keyword Planner is a free tool.
https://ads.google.com/intl/en_ca/home/tools/keyword-planner/
13) Tags YouTube
You can enter your goal keyword on TagsYouTube to get a list of pertinent tags to use with your YouTube content. A thumbnail generator, an elaborate title, and a detailed description are other capabilities of this program.
A free version is available.
14) Rapid Tags
A rapid Tag is a free tool that produces tags for YouTube quickly. You can import the most popular video tag and description imports. For some areas, a language filter can be used. You may acquire a list of tags to utilize on your YouTube videos by just typing your desired keyword into the search box.
A free version is available.
15) Camtasia
In essence, Camtasia is a tool for optimizing YouTube. Anyone who conducts webcasts, online tutorials, or presentations should use it. It enables you to capture keyboard and cursor movements on the screen. This tool allows you to include transitions, notes, music, and other visual components in your content.
A free trial is available.
https://www.techsmith.com/video-editor.html
16) Canva
Turn to Canva for assistance if you are having trouble designing. It features a huge selection of really excellent templates. You can use them as thumbnails for your YouTube videos. Its drag-and-drop UI feature makes it simpler for you to create visually appealing content while boosting your visibility.
A free version is available.
https://www.canva.com/create/youtube-thumbnails/
17) Blender
One of the greatest YouTube SEO tools is Blender, which has some amazing advanced options for making 3D content. It has a wide variety of modeling, visual effects, and rendering tools. Video cutting, transitions, and filtering are among the tool's standard capabilities. Video games can also be produced.
A free version is available.
https://www.blender.org/download/
18) Snappa
Another graphic design tool for beginners is Snappa, which has a straightforward user interface and step-by-step instructions to help users become proficient at producing creative graphic designs.
You can use it to make channel art, thumbnails, and other YouTube-related visuals.
A free version is available.
19) FotoJet
Before deciding to watch your video, a user initially views a thumbnail of it. As a result, in order to engage your audiences, a material thumbnail must be created. One of the greatest free SEO tools for making thumbnails for your movies is FotoJet. It is a graphic design and photo editing program made exclusively for making thumbnails for YouTube videos.
A free version is available.
https://www.fotojet.com/features/social-media-design/youtube-thumbnail.html
20) Adobe Premiere Pro CC
A robust video editing program with a wide range of features and functionalities is Adobe Premiere Pro. It helps you produce compelling YouTube videos of the highest caliber. Both professional and novice filmmakers utilize this application.
A free trial is available.
https://www.adobe.com/products/premiere.html?promoid=KQWSB&mv=other
21) iMovie
You probably already know quite a bit about this video editing program if you use an Apple product to make your YouTube videos. Before uploading your work, it enables you to make precise adjustments and desirable additions to your movies. With the aid of iMovie, you can also upload your videos with ease.
A free version is available.
22) YouTube Auto Suggest
If you've ever used YouTube to search for a video, you are aware that the instant you begin typing, YouTube begins to propose words and phrases to aid you.
Although it's a fantastic tool for users, it's also a really helpful tool for developers. In a manner similar to Google Trends, you can put your keyword or topic into the YouTube search bar and use the autosuggest results to uncover keywords you ought to use in your video's title, tags, and description.
23) Social Blade
The fantastic platform SocialBlade gathers information from Twitter, Instagram, and YouTube. You can utilize this knowledge to strengthen your social media plan. It has a component for YouTube that has all the necessary information about your channels, such as metrics on subscriber growth, projected earnings, youtube views, and much more.
A free version is available.
https://socialblade.com/youtube/
24) Answer the Public
A great tool for understanding what internet users is looking for in relation to your keywords is Answer the Public. It's a treasure chest for coming up with ideas for video material. It ranks among the best free SEO tools available, giving you thorough results for each search you make yet only allowing you to conduct a small number of searches.
A free version is available.
25) Google Search Console
Google Search Console is one of the top free SEO tools for YouTube. You can view how your website shows in SERPs (Search Engine Results Pages), and it also offers coverage reports and aids site owners in understanding how well their website is performing. Additionally, it provides details on the search terms that are bringing visitors to your website as well as the typical position that your videos occupy in YouTube search results.
A free version is available.
https://www.google.com/searchconsole/about/
26) Google Analytics
  Together with Google Search Console, Google Analytics should be used. It enables you to examine how users interact with your website after finding it via a search engine. The fact that it's free is amazing!
A free version is available.
https://analytics.google.com/analytics/web/
27) TagsForYouTube
This website is one of the 30 best YouTube SEO tools and serves as a YouTube tag generator that makes creating tags for your videos easier. Using your goal term as a starting point, you may quickly generate a list of tags for your movie.
A free version is available.
28) Awario
Awario is an analyzer that has numerous uses for SEO. You may monitor the list of mentions of your product and brand using real-time data. It is a great marketing tool for establishing a brand's reputation on YouTube.
A free trial is available.
29) Quora
On the website Quora, users can post questions and receive answers on a range of subjects. It's a great location to go to learn about problems your target market is facing so you can create YouTube videos to address those problems.
A free version is available.
30) DrumUp
DrumUp is a platform for managing social media and content management. It's a terrific tool for busy business owners and small-enterprise owners who want to guarantee that their social media platforms are constantly active and interesting.
And a free trial is available.
Conclusion
As you can see, there are a variety of tools available to help you with your YouTube SEO. While some of these tools are better than others, all of them have the potential to be useful in one way or another. The important thing is to experiment with different tools and find the ones that work best for you and your business.
Hopefully, this article has given you some ideas of where to start with your 30 best YouTube SEO tools. So, Good luck! with your seo journey.
Q. Is YouTube reliant on SEO?
With the help of SEO, it is possible to develop organically in both Google and YouTube and increase video interaction metrics. So, as you serve video content, remember to keep the user's overall search experience in mind and follow SEO best practices.
Q. What exactly is a YouTube SEO plan?
The process of optimizing your channel's page, playlists, metadata, description, and videos is known as YouTube SEO. Your videos can be optimized for both the search engine on YouTube and other search engines. So, users can find your films on Google, Bing, and other search engines.