MetaMask – Introduction
MetaMask is a cryptocurrency wallet that works as a browser extension that lets you trade Ethereum, use decentralized applications, and store tokens.
By integrating with MyEtherWallet, MetaMask removes the requirement for users to submit private keys at the time of each transaction, whether creating, storing, or trading tokens.
Users can use blockchain wallets, digital or online wallets to store and manage Bitcoin, Ethereum and other cryptocurrencies. A blockchain wallet allows users to transfer bitcoin, prevents asset theft, and, if necessary, convert cryptocurrency to local cash.
Give MetaMask a try if hot wallets are your thing. Let's discuss the installation before moving on to its usage cases. The representation of the Chrome web browser and the Android mobile operating system are additional components.
Installing MetaMask on Chrome
Go to the download page, select your operating system, and click the download option. It will detect the browser on its own. Select your platform, however, for iOS and Android to acquire the links or to search in the relevant app stores.
Browser Extension for MetaMask
I'll use the Chrome browser to show you how this works. To reach the MetaMask extension page in the Chrome Web Store, go to the download page and select Install MetaMask for Chrome.
To make it available in your browser toolbar, install and pin that. This procedure is comparable to installing any Chrome browser plugin.
MetaMask Wallet Registration
This will be your final welcome. To begin the registration process, click Get Started right now.
You have the choice to Import a Wallet or Create a Wallet on the following screen. To create a new one, select the later option.
To move on to the following step, you can select to share some anonymous data with MetaMask. If you want to utilize MetaMask with complete confidence, choose No Thanks; it won't have any negative effects. Choose wisely and carry on.
Now The next screen asks you to enter a secure password.
The MetaMask team will then attempt to highlight the significance of the secret recovery phrase with a brief video. Be sure to view it before moving on.
The secret recovery phrase needs to be saved at this point. The secret phrase can be found and downloaded as a text file. Next, click to continue.
Since they don't keep it for you, MetaMask goes to great pains to make sure you remember this crucial phrase. To recreate that phrase exactly as it was, you see a word search. If you make a mistake, the Confirm button at the end won't work, preventing you from moving further.
Additionally, there is a back button located underneath the MetaMask symbol at the top in case you forgot to remember or save it. You can download and memorize it by going to the previous page using that link.
The Confirm button will activate once you've finished. On the final screen of the registration procedure, after you click it, you will see the congrats message.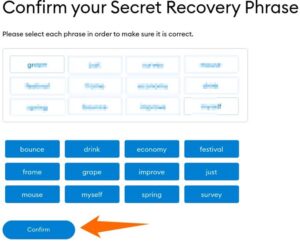 To access your wallet dashboard, click All Done on the congrats page.
How to Create a MetaMask Account on a PC
Open a new window of your browser and type in "Metamask Extension" or "Metamask.io."
To download Metamask to your browser, click on it.
Click "Start to create an account" after downloading the Metamask addon.
Choose the "Create a portfolio" page option from the two provided.
Please provide a secure password for you.
Review the terms of service after that, then click " Create " to proceed.
You'll see an introduction to MetaMask video. Click the "Next" page (in French), then choose whether to watch or ignore.
Click the "Click here to reveal the secret words" link on the following page to see the backup phrase in French.
The secret backup phrase that you can use to restore your account can be copied or downloaded. Additionally, because other individuals can access your account using it, ensure sure your phrase is stored in a secure spot.
Next, input your secret backup phrase and press the "To confirm" button on the following page (in French).
Installing MetaMask on Android
With the MetaMask Mobile app, interacting with blockchain-based applications is now made easier without sacrificing the security or usability that makes MetaMask the most reputable Ethereum wallet. All transactions can now be completed by users directly from their mobile devices.
This mobile application adds its security feature to web browsing, making it possible for users to browse Web3 just as effortlessly as with any other mobile web browser.
Enter "MetaMask" into the search box in the Android Play Store.
Install the app on your phone.
Yay!! The MetaMask has been successfully installed on your mobile device.
You have three options in the application to choose from to get started:
Using the seed phrase, import.
Extension sync using MetaMask.
Make a fresh wallet.
Let's go over each of the three approaches individually.
Importing using the seed phrase
Follow these steps to import your wallet account using this method:
In the space provided, type your seed phrase.
Enter a new password of your choice, then enter it again in the following form to confirm.
When logging into your account on MetaMask mobile, you can use a fingerprint scanner to sign in rather than inputting your password each time.
If you get locked out of the app or obtain a new device, you can retrieve your money using this approach generally.
Extension sync using MetaMask
If you are already logged in to your account on your desktop with a desktop extension, you can choose this approach. To sync your mobile account with the desktop MetaMask plugin, follow these instructions.
Launch the desktop extension.
Under advanced Settings, select Sync with mobile.
Click the next button after entering your account's password.
Use your mobile device to scan the QR code that appears on your desktop screen.
Your account is now successfully synchronized on your phone, and it won't take long for your entire transaction history to do the same.
Create a new wallet
This option is best if you're using MetaMask for the first time. To build a new wallet, adhere to the steps below.
Make a password. Enter a strong password and double-check it in the appropriate field. Read the written instructions, which state that you must remember this password because MetaMask cannot retrieve it. Check the box, then click the "Create Password" button to move on to the next stage.
You must secure your wallet at this phase by keeping a special seed phrase. Every account has a seed phrase that is particular to it and using it to import your account is the only method to restore your wallet.
Click the "Start" button at the bottom of your screen to continue. The significance of the seed phrase and how to securely save it are discussed on the following screen.
ALWAYS KEEP YOUR SEED PHARSE TO YOURSELF.
After reading the instructions, click the "Start" button at the bottom of your screen to continue.
Verify your password and click View to continue. Make sure no one else is watching your screen in the area. Twelve words that make up a seed phrase would now be displayed in order on the screen. Click "Continue" and keep in mind the seed phrase in the correct order or write it down somewhere secure.
Enter the seed phrase words in the way they were previously shown. Once finished, press the "Complete Backup" button.
It has now been successful in creating your account.
You are now prepared to explore and use the MetaMask mobile app!
Final Words
An add-on for your browser called MetaMask can serve as your Ethereum wallet. You may use MetaMask in any browser since, unlike conventional wallets, it doesn't need any additional plug-ins.
Both desktop and mobile systems can run the MetaMask application. On all supported browsers, the downloading process is substantially the same. Make sure you are aware of the tool's benefits and drawbacks before deciding to utilize it.